What if you could increase your revenues by 20% or more and substantially reduce your advertising costs just by staying in touch with your existing customers? Customers are the people who know, like, and trust you already. How many of them would be buying more products and services if you were to cross their radar with an email blast or even better, an SMS text message?
It's a fact that 80% of your business will come from 20% of your customers. But perhaps that number would be higher if more of your customers knew about all the products and services you provide. Imagine their response if they received customer rewards for being your loyal patrons!
Unfortunately, too many business owners make the mistake of investing most of their advertising and marketing dollars in the hopes of reaching prospects and generating new business. They tend to forget about their ripest customer market that is most receptive – people ready and willing to take immediate action on special offers, coupons, requests for reviews, incentives for sharing, and more – strategies that can literally explode revenues and profit for a business.
Why is SMS text marketing so powerful?
SMS marketing is one of the best methods of staying in touch with customers. It reaches a hot market on the go who is primarily communicating through text messaging. With an open rate of over 98%, it makes sense for local businesses to pay attention to this powerful trend and low-cost method of reaching their highest converting market.
Ways to use SMS text marketing
Let your customer know when their order is ready.
Let them know when you have new stock.
Introduce them to any specials you may be running.
Send them discounts and coupons off their next purchase.
Send a special birthday gift to a birthday list.
Request reviews in Google and social media sites.
Get new customers with offers that entice prospects to join your list.
If you've already downloaded and read your free SMS marketing report and would like some help in setting this up for yourself, just let us know. We are happy to help with some ideas that will explode your profits quickly and with a substantial ROI.
What is WebPuzzleMaster eZ SMS Blaster?
The eZ SMS Blaster is a system that allows you to create and send out coupons from an easy to use robust Coupon Generator and powerful SMS system that is installed on your WordPress website. eZSMS Blaster is an SMS blaster is an ideal solution designed for local business SMS marketing and internal company communication. This easy and affordable SMS system includes a dynamic opt-in form that can be embedded anywhere HTML is supported.
A robust coupon generator lets you create any number of coupons that can be selected and inserted into the SMS message field with a single click. Dynamic categories allow for importing lists and sending SMS to selected groups or individuals. This makes eZ SMS Blaster an ideal communication tool for messaging employees and company leaders. Available for all website platforms and as a WordPress plugin.
Through eZ SMS Blaster text marketing system, you will be able to:
build opt-in SMS lists
manage list categories
import lists
Schedule SMS or send immediately
Have options to send extra long messages
Create unlimited HTML coupons with clickable actions
Easily attach coupons you have created
Watch the video to learn more about eZ SMS Blaster for your WordPress website.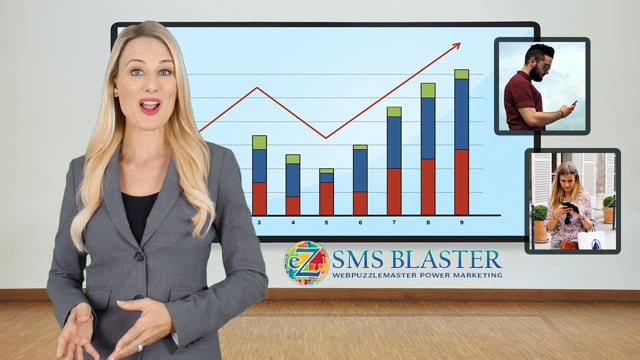 eZ SMS Blaster, the Intelligent SMS Marketing Delivery System
Learn More & Sign Up for 10-Day Free Trial Without Any Risk.