Whether you are about to start or just getting started to use bulk SMS marketing for your business, there are things that you can do to prepare and get the best results. In this post, we will discuss list building, content, and scheduling strategies.
Preparing SMS Lists for Import
It is relatively easy to prepare a list of your customer's mobile phone numbers in a spreadsheet and save the list as a csv file. You may have a single customer list or separate lists for diverse customer groups. Label each list so that you can be sure that you are sending the right messages to the right list. Before importing contacts and sending SMS, it is advisable to modify your terms and conditions on your website to advise customers that their permission is implied. Be sure to include that customers can be in more than one list and that they can easily remove themselves from a list.
Opt-in SMS Forms for SMS Marketing List Building
Besides importing your customer lists, you may also build lists of subscribers via opt-in forms. These permission-based lists can be extremely effective for new customer acquisition, engagement and interactivity, and viral sharing. With some SMS WordPress Plugins, you can even integrate an opt-in form on other domains that you own.
Perhaps you're wondering how to get visitors to opt-in to your SMS marketing lists? After all, just embedding a form on a page does not mean that people will join your list. People join when there is an incentive with great appeal for them. The incentive might a discount, free report or consultation – freebies for something they want and need. But that requires automation and an easy way to manage the incentive.
Here is an example of an opt-in form with a digital incentive to subscribe.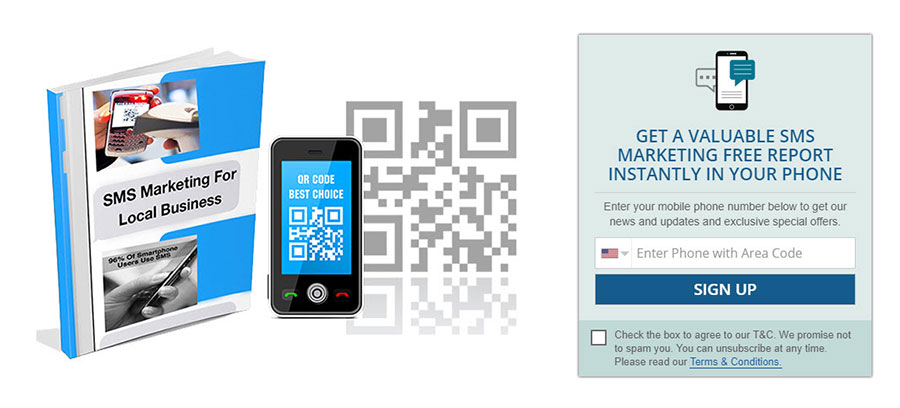 Notice that the form includes terms and conditions that the subscriber must check for compliance with SMS regulations. In this software, default terms are included in the form code in a format that can be easily modified if desired.
In the admin, the incentive gift is managed within this WordPress SMS plugin as shown below.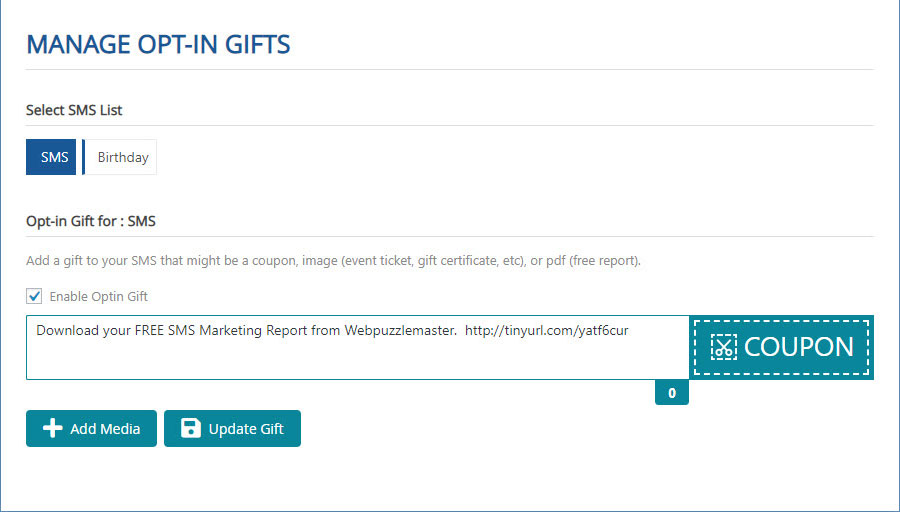 You may want to build lists for your general target market or for more diverse marketing groups. For example, if you sell fashion products to men and women, you may want to create a separate opt-in list and form for men and another for women. Then you can send coupons and other offers to each of these lists which is more likely to result in sales.
Using a Birthday Gift to Build an SMS List
Another strategy for building lists is to create a birthday opt-in list and form where subscribers enter their birthday month and day with mobile number and automatically get a free gift or valuable discount on their birthday. This is a powerful strategy as almost everyone wants a free birthday gift. By promoting your free birthday gift through email, social media, and ads, you have the potential to build a massive list quickly.
Here is an example of a birthday opt-in form with an incentive gift on the home page of a hair services website.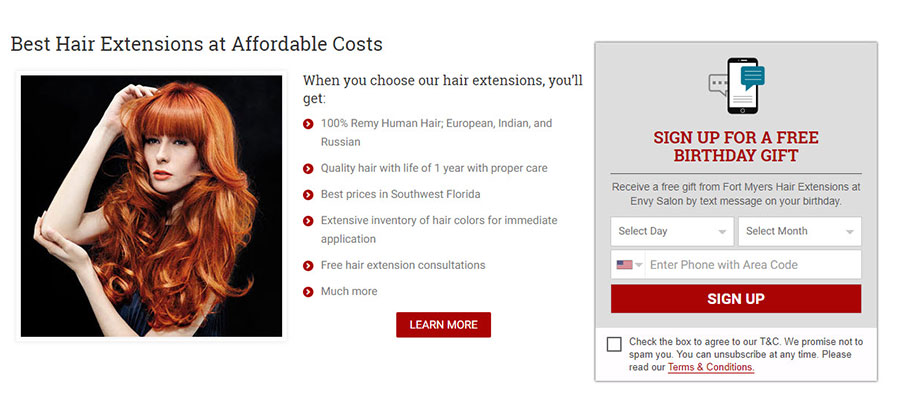 The incentive for joining this birthday list is a free gift from the hair salon on the subscriber's birthday. Currently it is a 50% cut and style on your birthday compliments of Fort Myers Hair Extensions at Envy Salon. But the company can change the gift at any time and the subscriber will get the gift that is current on their birthday. Once in the list, the owner of the salon may send any number of offers to this list – subscribers likely to remain in the list to get their birthday gift. Of course, sending out SMS too frequently and without a real value to subscribers is likely to result in removals and dissatisfaction with the business.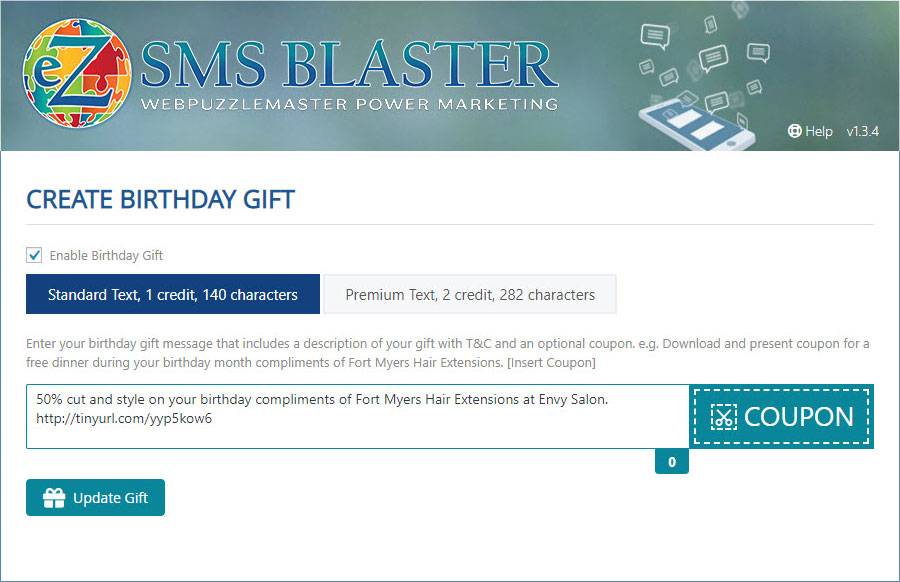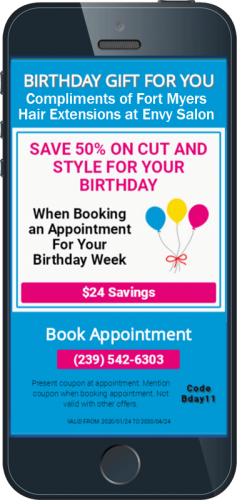 Within the text message, there is a minified link to an HTML coupon with additional details, terms and conditions and a click to call button where the user can make an appointment. HTML clickable actions is a very powerful feature that can produce immediate sales.
Content to Send through Bulk SMS Marketing
Now that you have lists to send SMS to, you will also need a plan for content to send to your lists. Your plan may include messages to excite and engage your market with contests, surveys, special offers, customer loyalty rewards, events, daily or weekly deals, freebies, information, review requests and more. Sending SMS at holiday times is an important strategy for retailers, restaurants and many local businesses to increase sales. The more valuable content you send via SMS, the more you strengthen your brand, increase revenues and build customer loyalty.
Scheduling Strategies for Automating Bulk SMS Marketing
All SMS services and software allow you to send SMS immediately but not all build-in a scheduling feature for one or multiple lists. The ability to schedule and automate your bulk SMS campaigns is a powerful way to generate sales on an ongoing basis. You set the date and time for delivery to coincide with your marketing goals. And whoever is in your list at the time of delivery will receive your SMS message.
With some WordPress SMS plugins, this powerful feature saves you considerable time as in one session, you can schedule your SMS for a week, month, year, or more. And if you need to edit or delete an SMS, you can easily find, edit and delete scheduled messages.
Knowledge for Your Success with Bulk SMS Marketing
Hopefully you now feel more prepared to start using bulk SMS marketing for your business. You now know how to prepare a list for import, use opt-in forms for list-building, plan content for engagement and interactivity, and use scheduling strategies for automated strategic delivery.
eZ SMS Blaster, the Intelligent SMS Marketing Delivery System
Learn More & Sign Up for 10-Day Free Trial Without Any Risk.