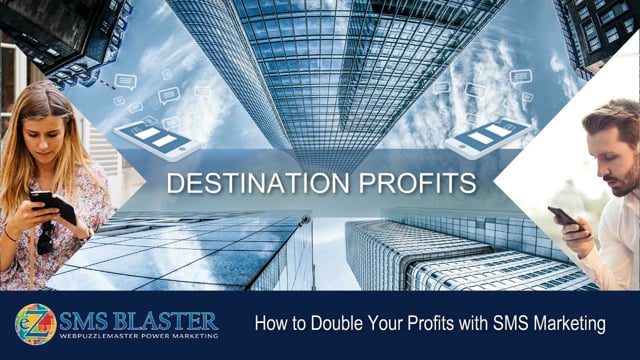 What if You Could Use SMS Marketing From Your Own WordPress Website to Retain Customers, Acquire New Ones, and Grow Profits Fast?
If you're a local business, professional, or retailer, how much business are you losing because you don't have an easy, low cost way to send discounts, coupons, special offers, and customer loyalty rewards in text messages that have a greater than 98% open rate?
Want to Double or Triple Revenues Fast? Now you can and more with eZ SMS BLASTER!
Finally, a Solution for Local Business Designed to Transform Your Results with SMS in Today's Fast-Paced Mobile World
For the first time ever, you can send strategic SMS from your WordPress website. eZ SMS Blaster is an easy, affordable and robust SMS marketing plugin designed to help you grow profits fast from new and existing customers. With eZ SMS Blaster you can overcome the biggest challenges in using SMS marketing with user-friendly software that lets you build massive lists, use advanced targeting, and send SMS at strategic times. You can even make and attach HTML coupons that support clickable actions for immediate sales! 
Skyrocket Your Profits with this SMS Marketing WordPress Plugin
Demo eZ SMS Blaster to Explore its Extensive functionality and Ease of Use
Included Features
Customize for Your Brand
Encrypted Contacts for Security
Choice of 3 Main SMS Carriers
Manage Unlimited Lists
Manage Unlimited Contacts
Send & Schedule SMS Per List
Unlimited Customized Optin Forms
Birthday Optin Form
Manage Incentive Opt-in Gifts
Create HTML Coupons (Call, Buy, Register, etc.)
Get Campaign Delivery Data
Reports for Delivery Analysis
Premium Support
An SMS System Inspired by Powerful Trends and Facts
SMS has an open rate greater than 98%. This provides a powerful opportunity to profit more from existing customers and to acquire new ones.

Without custom development, businesses have very limited options for building lists and sending strategic SMS campaigns. eZ SMS Blaster solves those problems with a one-time affordable SMS marketing investment.

Coupon generator allows you to send unlimited HTML coupons with a powerful call to action such as click to call, click to buy, register for an event, download report, and more.
What Makes eZ SMS Blaster an Intelligent SMS Delivery System
Don't Have a WordPress Site?
Simply have your developer install WordPress in a sub-folder of your domain. From your WordPress admin, you'll have full access to all the powerful features of the plugin including opt-in forms that will display and work flawlessly on pages, posts, HTML widgets and pop-overs on your main site. Have no developer? We can install the plugin for you for a very reasonable cost.
Have a CRM or WooCommerce Cart?
Through an API that we provide, you can integrate eZ SMS Blaster with your CRM or WooCommerce cart and automate customer alerts, provide special offers based on purchases, and send messages to customers about their purchases.
Powerful Features of eZ SMS Blaster System
Send SMS to individual subscribers.
Send SMS to one or more lists.
Create and manage unlimited lists.
Easily import contacts into lists.
View subscriber numbers within each list.
Create any number of opt-in forms.
Include terms and conditions in opt-in form.
Give an opt-in gift as an incentive to join a list.
Create a birthday gift opt-in form.
Manage birthday gift easily.
View character count as you enter message text.
Include minified links in text message.
Create, edit, and clone coupons from built-in coupon generator.
Easily select and insert any coupon.
Send coupons with HTML actions, e.g. click to call, buy now.
Send SMS immediately or schedule.
Receive sent data with each campaign.
Buy low-cost SMS credits within your account.
View SMS credit balance within your account.
Coupon Template Generator
Design unlimited coupons that you send to your customers through SMS on your own site.
Send HTML Coupons with CLICKABLE Actions like CLICK TO CALL, BUY NOW, REGISTER, DOWNLOAD and others.
DEMO PLUGIN TO TEST DRIVE POWERFUL FEATURES & EASE OF USE
*Please note: Demo allows access to lists, contacts, forms, campaigns, and coupons. Sending SMS is not available.  If your site is not in WordPress, please contact us before purchasing.